New private burial ground opens on Adlington Hall Estate
October 7th, 2016
Businessman Mark Simpkin and his wife, actress Tricia Penrose, have officially opened their private burial ground within theAdlington Hall Estate, Cheshire.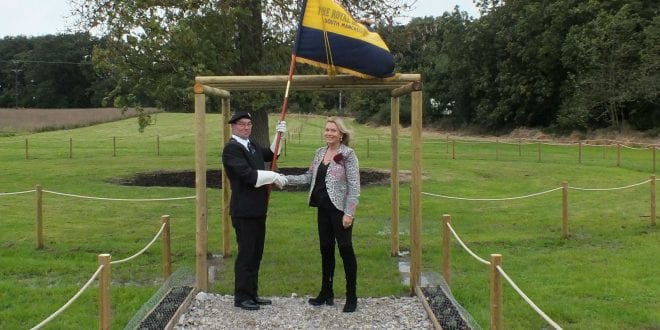 "We bought a redundant church in Bollington about five years ago and during the planning process to convert it into apartments, it became very apparent that there was a major lack of burial and ash interment space in our area. With many of our local graveyards full we wanted to create a beautiful alternative environment – so people now have a choice," said Mark.
Trish adds "As a child, I found traditional Victorian graveyards to be scary and unpleasant, we wanted ours to feel like a natural open park, a place to sit, walk and reflect. I'm really pleased that we've managed to achieve this."
The memorial park is a private burial ground. Clients can choose to be buried in normal wooden or wicker coffins although everything must biodegradable [no metal or varnish]. Both the burial and ash interment plots will have a memorial plaque made from locally sourced stone. The tree for life scheme allows you to purchase and plant a tree around the boundary of the park.
Funeral director Paul Kane said "This is not just an overgrown field, it's a very well planned prestigious park which is maintained to the highest of standards. It's going to be very popular"
Adlington Memorial Park celebrated the dedication of the "Veterans' section" of the park with a short service attended by Tricia Penrose, director of Adlington Memorial Park. Tricia is pictured with the standard bearer from the South Manchester British Legion.
Tricia stated: "The Veterans' section will be a fitting resting place for members of our armed forces both past and present, in a beautiful and natural setting in the grounds of the Adlington Hall Estate"
A service of remembrance will be held each year to honour the sacrifices made by our Armed Forces, with the veterans' section being the focal point of the event.
Adlington Memorial Park offers burials, the internment of ashes for families of up to four and the scattering of ashes in a setting of historical outstanding beauty which is protected by English Heritage.
The park uses the most modern cemetery management system to record the location of all burial graves, ashes internments and ashes that have been scattered, to ensure that families can forever locate the resting place of their loved ones.
Funeral directors can contact the Memorial Park to discuss becoming a partner, which will enable them to offer clients all the benefits of the Private Memorial Park.
For more information, contact Mark Simpkin on 01625 578496 or email enquiries@adlingtonmemorialpark.co.uk.
---
« Go back to the news